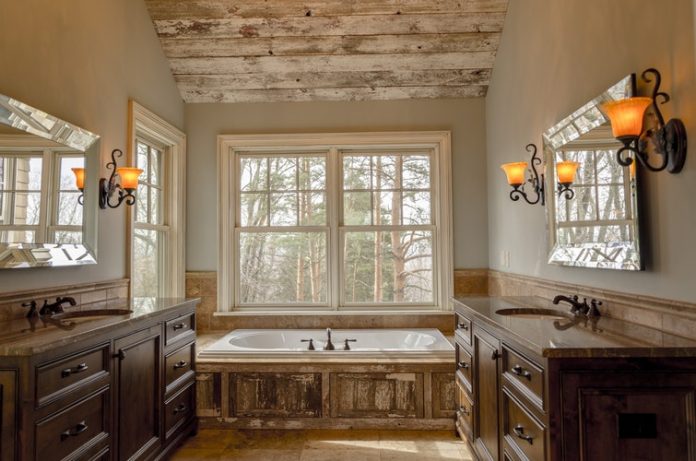 So, you are building a new house or renovating the old one. You will have to focus on your bathroom, too. One of the primary things that you have to consider when remodeling your bathroom is the bathroom vanity. There are endless choices when it comes to bathroom vanities.
There is no one best style. In this article, we are going to take a look at the different modern bathroom vanities you will find in the market. So, let's proceed.
1. Wall-Mounted
The wall-mounted sink is one of the most common and basic bathroom vanities you will come across, particularly in apartments and homes. It is used often because there is a shortage of space in the bathroom.
The discount bathroom vanities like this will mount directly to the wall without any floor support. They are attached to hanger brackets, which are fixed to the wall, and framing members are placed behind the wall. Supply lines and plumbing waste might either be concealed or exposed in these types of vanities.
2. Pedestal
It is classic and is found in older homes and apartments. Like the previous one, these vanities are used when space is tight. However, they are elegant enough to be the focus of your bathroom design if space is not a problem.
Like the name suggests, these bathroom vanities wholesale can be mounted on top of a pedestal, which supports it off the floor. At times, that is the situation. With other designs, the vanity is mounted to the wall and hangs, while the pedestal is decorative, used for giving it a look of a classic pedestal vanity.
3. Vessel
It is one of the latest innovations, which comes with a free-standing vessel sink, like a large metal bowl sitting on top of the vanity surface. Keep in mind that it has a great visual appeal and enough storage options. However, it can take up a lot of room and can be expensive. But a vessel sink is common for master bathroom vanity ideas. It is also used commercially, such as in hotels and restaurants. When it comes to the designs of vessel bowls, you will find a plethora of options.
4. Corner
This is a kind of bathroom vanity that has been designed for special needs in the bathroom space. A corner vanity is a popular style for a washroom space of half-bath. For instance, a bathroom with just enough room for a vsink and toilet might have a corner vanity for making the most out of the space that is available. It will necessitate the use of a round sink. Also, it might have a wall mount option for saving further floor space. These are special sinks and vanities. It comes with the ability to transform even the smallest area into an aesthetically appealing and functional space.
5. Narrow Depth
Usually, vanity depths are around 21-24 inches. However, there are times when the floor space in the bathroom is unable to accommodate the typical spatial requirements of a vanity. If the walkway needs to be wider or when the narrow doorway is restricting the depth of the bathroom vanity, these cabinets can save the day. It is going to need a special basin or sink, too. Usually, it will be less than 21 inches in terms of its distance from the wall and might need an exclusive set of taps or faucets.
Bottom Line
You need to consider how you plan on using your bathroom vanity and also what is the right style for you. Don't forget to consider both floor and room space that can make it difficult to clean or make the space too narrow. But the good thing is there are more than a few styles to choose from.