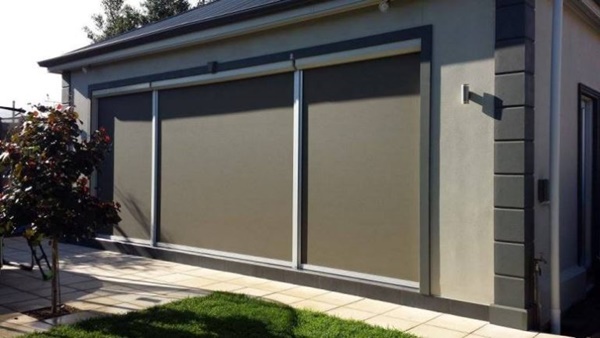 As the summer months approach, many of us are looking forward to spending more time outdoors. Whether it's lounging in the backyard, hosting barbeques or just enjoying a quiet evening with family and friends- having a well maintained outdoor area is essential to making the most out of these warmer months. However, while you may have already invested in stylish patio furniture and installed beautiful landscape lighting – there is another aspect that should not be overlooked: roller blinds. Investing in high quality outdoor roller blinds can help protect your precious outdoor space from harsh weather conditions; ultimately prolonging their lifespan and ensuring your cherished memories are not interrupted by unexpected elements like wind, dust or rain. In this article we explore why you should consider incorporating roller blinds into your exterior design plan and which types will best suit your needs.
Shielding Your Outdoor Space from Harsh Weather
Shielding your outdoor space from harsh weather is crucial to ensuring a comfortable and enjoyable experience during the warmer months. High-quality roller blinds are an excellent investment for protecting your backyard from potential weather disruptions such as gusty winds, heavy rainfall, or scorching sun rays. They offer a perfect solution for keeping your outdoor area shaded and cool in hot summer temperatures. Additionally, investing in roller blinds for your patio can also enhance the overall aesthetic appeal of your home's exterior. With many designs, materials and colours available on the market today, you are sure to find something that suits both functionality and style aspects while giving you control over how much light or heat enters into the space. Ultimately, high-quality outdoor roller blinds give homeowners peace of mind knowing their investments are well protected from unpredictable elements whilst adding value and appeal to any home or business property that has an outside recreational zone including pools areas etc..
Benefits of Installing High-Quality Roller Blinds Outdoors
High-quality roller blinds can provide a range of benefits when installed outdoors. Firstly, they offer protection from the elements such as strong sun, wind and rain. This means you can enjoy your outdoor space in comfort no matter what the weather may be. Secondly, roller blinds add an extra layer of privacy to your home. By preventing passersby from seeing into your yard or patio area, you are able to feel more secure about spending time outside with family and friends.

Thirdly, outdoor roller blinds can also increase the value of your property. By enhancing the overall aesthetic appeal of your backyard or entertainment area with well-designed roller shades, you create visual interest that easily sets apart any space from ordinary ones on the street. Additionally these blinds will last longer than other materials which means less money spent over time due to their durability and ROI for homeowners looking at large-scale renovations projects. Overall installing high-quality roller shades gives both practical uses like weather protection while adding beauty without breaking budgets!
Enhancing Your Outdoor Living Experience with Roller Blinds
Enhancing your outdoor living experience with roller blinds offers many practical benefits. In addition to creating a stylish and modern look, they provide valuable protection from the elements. Depending on your preference of fabric material, roller blinds can shield you from harmful UV rays, wind or rain as they are weather-resistant and durable. They not only extend the longevity of your outdoor space furniture but also enable you to enjoy it throughout the year regardless of changing weather conditions. Roller blinds can effectively transform an area into a cosy space by offering privacy while still allowing natural light in. You do not have to worry about intrusive neighbours prying or glare from disruptive sun rays when relaxing outdoors again! The easy-to-use function also makes them user-friendly across multi-generational families where seniors may find it easier due to physical impairments such as arthritis or difficulty bending down/ standing up straight for long periods.

In summary, enhancing your outdoor living experience with roller blinds is an investment worth prioritizing if you value comfort and convenience in equal measures. Protection against harsh weather conditions and unwanted intrusions make this option particularly appealing along with the added benefits of energy efficiency (keeping warm air inside during colder days) which will help save costs over time too!