Innovation and creativity have led construction and architecture in every century. Today when life has become so ruthless and fast, even in the construction sphere the need for fast and convenience has led to the evolution of concrete coatings which makes floor as well as wall designing easier. However, with the market being flooded with uncountable options and varieties of decorative concrete coatings picking one style of option can be intimidating. But despite that, the reason why people are inclined towards concrete has multiple reasons.
The application of concrete coatingshas a diverse range of applications in automobile floors industrial plants, the food industry to beverage counters, aircraft hangars to warehouses, and so on.
Owing to the extensive variety of coatings, engineers, architects, etc. need to put in a lot of consideration on picking one from a huge variety for high-build flooring, broadcast floors, metallic epoxy, etc.
About Decorative Concrete Coatings
Most of the people in today's world prefer their households to be of topnotch designs. If you have got similar expectations from home decors, then the best way to indulge in the process is to opt for decorative concrete coating options.
It is quite obvious for you to get random guest visits at your place at certain hours of the day and thus, keeping your house being presentable is your responsibility. If you fall in the trends and go for decorative concrete coating options, then you would not have to worry about getting in the spotlight among all. In simple words, such decorative flooring and concrete wall designing options can help you enhace the beauty of your insides as well as outsides of the home. The best part about these is that the concrete coating options are not only affordable but also long lasting. For further info, keep reading the following article now.
Benefits of Decorative Concrete Coatings
Apart from the decorative utility of concrete coatings, it has a wide range of benefits as well which makes it a desirable pick for engineers, architects, decorators, interior designers, and so on.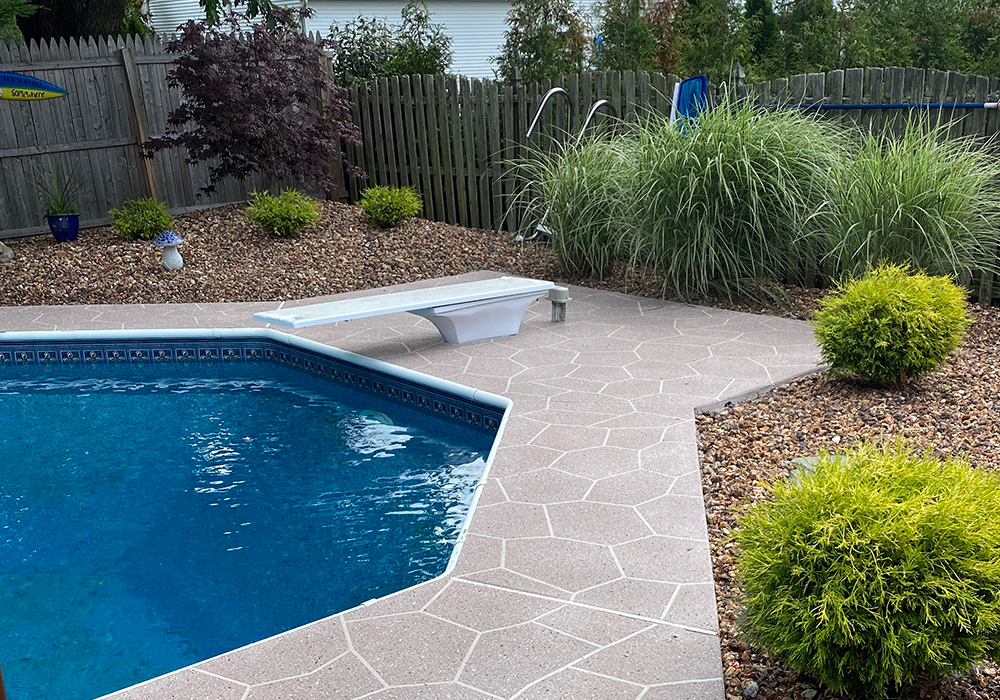 Protects from Chemicals
Concrete in its natural form without any coating is easily susceptible to many chemicals. Now whether it's your floor or walls, chemicals can spill over the surface at any time, for people use many types of chemicals in household activities, that is cleaning to washing, etc. For example acids, salts, caustics, phenyl, and harsh cleaning agents shortens the life of normal concrete floorings or surfaces. Concrete coatings add an added protective layer against such chemical abrasions and offer enhanced longevity to the surface. But at the same time, if you know the kind of chemical exposure possible to the surface, and accordingly select the coating type, you can enhance the longevity of the surface further.
Creative Liberty
Standing unique in a crowd with custom design solutions is the call of the decade in every sphere of life. Whether clothes or it's your house flooring, attaining exclusive design, style and patterns offer classic satisfaction and also defines your taste, and add vibrance to the interior. There is an extensive range of patterns and styles which can be achieved with concrete coatings like stained to hand-carved styling, stamped to asymmetric, stenciled to the replica of natural stones, cobblestone texture to flagstone finish, and much more.
Hassle-Free Installation
Concrete coatings can not only be used for new constructional requirements but even to restore damaged concrete slabs or floors. This process offers creative freedom as well as effectively saves time, labor, money, and trouble. Since it's a fluid coating, it can easily be applied over pre-existing surfaces and damaged floors eliminating the cost and labor of demolition, restoration, and replacement of new floors. To attain exclusive designs and textures in minimal time as well as a pocket-friendly budget range, decorative coatings of concrete have no parallel indeed.
Longevity and Maintenance
This type of coating offers an added shield of protection against abrasion, therefore these are widely used in over-trafficked areas like patios, corridors, kitchens, poolside, etc. The technological insight reveals that with a concrete coating the floor acquires an industrial strength owing to the compression strength exerted while application of the coating which is around 5000 psi. Therefore, the final floor with the concrete coating is thermal and weather resistant. Moreover owing to the sealed finishes the coating offers a bunch of more benefits like stain resistance, resistance against peeling or fading, chipping as well as moisture retention.
So to sum it up, coated concrete gives your floor or wall surfaces added life, strength, aesthetic appeal, and elegance. Altogether you can achieve desirable looks, durability, and easy repair solution for your damaged floors with decorative concrete coatings. This type of concrete coating is also ideal for garages, vehicle traffic zones, or exterior areas, which need to withstand heavy foot or wheel traffic as well as extremes of weather. Besides you can also avail of anti-Slip/ non-skidcoatings to integrate a safer space and minimize injury scopes.