While taking a nice bath or brushing your teeth, looking at the decor of your bathroom you may often realize your bathroom looks dull and colorless. It is because it needs a makeover. Yes, a bathroom makeover can completely change the look of your bathroom and you can get to see your dream bathroom every morning. However, it should not be expensive. This post will share some budget-friendly makeover ideas for your house bathrooms. You don't have to spend thousands of dollars to give your bathroom a new look.
1. Paint Bathroom Walls: The shine of the bathroom walls fades with time. It can be solved by painting the bathroom walls with a fresh coat of paint. It will brighten up the look of your bathroom. Besides, some cabinets may also look dull. You can paint them too with dark or light colors. However, you should always pick a light color to paint bathroom walls. Because light colors reflect and retain light. You can use white and gray to paint vanities. In this way, you can have a good bathroom makeover on a low budget.
2. Use new Faucets, Knobs, and Lighting: Maybe your bathroom has old-fashioned lighting, faucets, and knobs fixtures. Replacing these fixtures with new ones will not cost you a lot of money. You can now choose from a wide variety of designer faucets that also have upgraded features and thus can increase the value and utilization of your bathroom. The same goes for doorknobs.
3. Change the Lighting Setup: The best lighting can improve the feel and style of your bathroom. Therefore, in the case of light fixtures, you can try to use Inexpensive flush mount lighting, track, and vanity light fixtures. Also, you can save money in the long term by using energy-efficient light bulbs.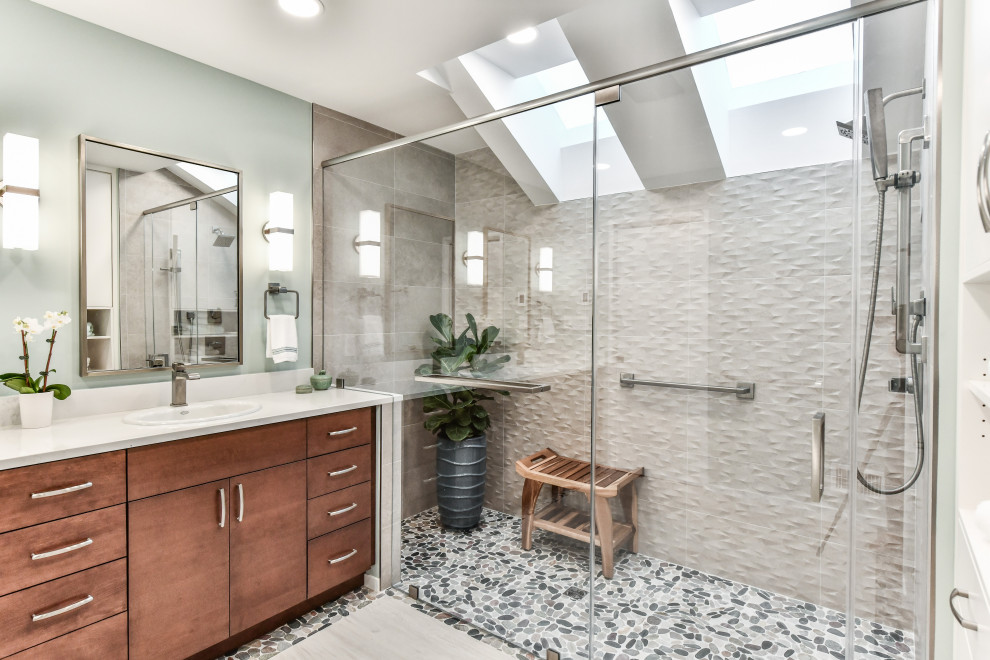 4. Use Brand-new Vinyl Floor Tiles: Do you have ceramic tiles in the bathroom? You may have to be careful as they are breakable and expensive to install. Here, you can use vinyl tiles, which are affordable and easy to install. No need to break the foundation to lay down the tiles on the bathroom floor. The only thing to do is peel off an adhesive layer of vinyl tiles and stick them on the floor. Homeowners can also do vinyl flooring without any expert help. Moreover, vinyl tiles are waterproof. Hence, they get dried up quickly. Make sure these tiles will not go over the budget of the bathroom makeover.
5. Install Accessories: Window curtains, accents, and privacy screens can be installed to accessorize your bathroom. Add privacy screens that fit from one door frame to the next. Replace old hand and bath towels with new ones as well. Thus, it is one of the best budget-friendly tips for a bathroom makeover.
6. Expand Storage Space: You need enough space to keep your toiletries. Letting them scatter around will only make your bathroom look messy. If you don't have much storage space you may need to install more shelves for soaps, shampoos, detergents, toothpaste, towels, etc. You can also install wash basin vanities with a storage facility.
7. Protect your Walls with Tiles: If you have a good budget, you can go for wall tiles that can improve the functionality of your bathroom. It can add aesthetic value to the walls. Placing wall tiles also fulfills decor purposes. You can use mosaic tile patterns or solid colors and clean lines to have a big impact. They are easy to install in showers or behind the vanity sink. Whatever type of wall tiles, you will save money on your bathroom makeover project.
8.  Budget-Friendly Low-Flow Toilet: What is a low-flow toilet? Well, the low-flow toilet is an eco-friendly toilet that uses less water. It can save water and cost on your bathroom makeover project. However, they are budget friendly enough so talk to your contractors if you want such a setup.
Conclusion:
Consider these cost-saving ideas to revamp your bathroom. In this way, you will get an upgraded bathroom with better accessibility and functionality. Hopefully, you have learned how to save your money with simple bathroom makeover tips. You can hire us to give an amazing makeover to your outdated design bathroom.